Peace Bauble
March 2022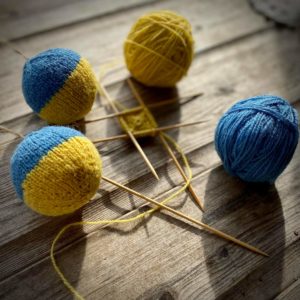 There is no need for me to write about the challenges facing the world at this current time.  Knitting offers me comfort and solace whilst my mind is whirling. I have uploaded a free bauble pattern to the online shop with a thought that it may offer you comfort and solidarity.
https://shilasdair-yarns.com/product/peace-bauble/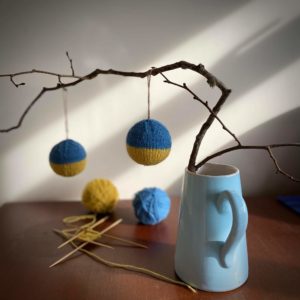 Dyeing with Reeds (Phragmites australis or Cuilc in Gaelic)
September 2021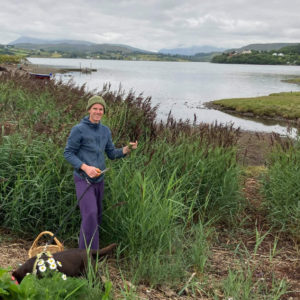 The common reed is a traditional Scottish dye plant that really conjures up the magic of natural dyes. The reeds like alkaline wet marshy land. Here on Skye they generally grow up  to about 1.5 metres although in less wild weather locations can reach up to 4 metres tall. The reed beds provide a thriving and safe home for so much wildlife. They are invasive and a real spreader once they take hold so not ideal for planting in your dye garden but if you can find a patch locally already taken hold I definitely recommend having a go and dyeing with the purple flower heads of this plant.
Research shows the roots, leaves and seeds of the reed as are all edible but I have never tried and wouldn't recommend without further guidance!The reeds themselves have been used for so many things over time: roof thatching, basket making, broom making, paper making.  Here on Skye it has been documented that fishermen used the reed for rope making.
For the dye pot it is the unopened flower heads that we use, which here on Skye are purple and sleek in mid August but that may vary on where you live especially if you have a warmer climate. Once you have gathered your seed heads pop them in your pot, cover with water and heat slowly for about an hour – you will soon see a lovely purple liquor develop.  Allow it to cool and then add your yarn, fabric or other textiles to be dyed.  Our samples shown below are 100% wool mordanted with 12 % alum.  Heat the dye bath gently for another hour and you will see the wool takes up the colour readily. The lighter green sample was removed from the pot after and hour, the darker green was left in over night.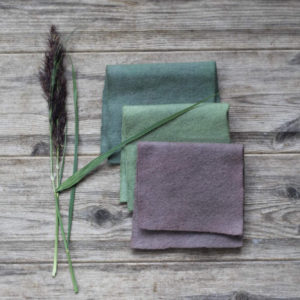 We then experimented with the ph – so often colours in the dye bath will shift depending on a low or high ph. By adding vinegar to the dye bath and lowering the ph to 3 we dyed another wool sample which remained purple and didn't turn in to the beautiful greens above. This acidic dyed sample is not stable as a colour, but it is a fun experiment and a good example of how one dye pot can produce such different shades of colour depending on ph. Taking the science out of it I just love the magic of pulling different shades out of one pot!